In some disasters, more rescuers die than original victims.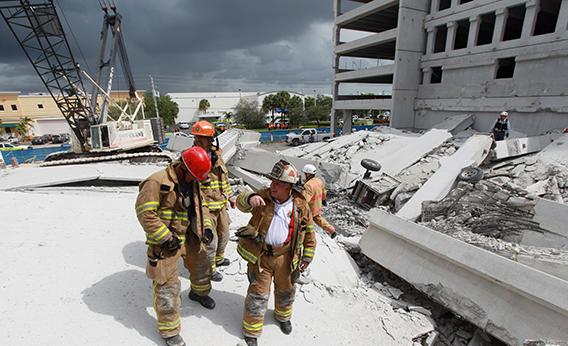 Massive tragedies require involvement of multiple agencies and clear coordination and communication. Above, Miami-Dade search and rescue look for survivors in the rubble of a collapsed parking garage on Oct. 10, 2012.
In 2007, a Virginia dairy farmer died from inhaling methane fumes while working in an enclosed manure pit. A hired worker attempted to save the farmer and was also killed by the fumes. The farmer's wife and two daughters then jumped in, each frantically trying to save the earlier victims, and also died.
One tragic death quickly became five.
Sadly, this type of compound tragedy, in which rescuers become additional victims, is far too common.
In certain situations, the data show, more people are killed trying to rescue others than are killed in the initial accident. The Occupational Safety and Health Administration recently examined reports for fatal, confined-space accidents and found that when multiple deaths occurred, the majority of the victims were rescuers. The National Institute for Occupational Safety and Health previously reported that rescuers account for more than 60 percent of confined-space fatalities.
For the rest of the story: http://www.slate.com/articles/health_and_science/science/2013/05/rescuers_turning_into_victims_lessons_from_first_responders_on_saving_people.html