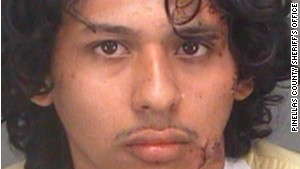 (CNN) -- A Florida man fleeing a traffic stop almost got away, police say. Until he met up with an alligator.
Bryan Zuniga escaped police early Thursday, but was arrested at a Florida hospital hours later following the painful encounter with the gator.
The incident started after deputies pulled over the 20-year-old in Pinellas Park for allegedly failing to maintain a single lane.
He stopped the vehicle, jumped out and broke through a nearby fence, successfully eluding police, the Pinellas County Sheriff's deputies said in a statement.
But his freedom did not last long.
Authorities arrested him a few hours later at a local hospital, where he was getting treatment after the alligator attack.
Zuniga told deputies an alligator bit him near a water treatment plant in St. Petersburg, which is a few miles from where he ditched his car.
For the rest of the story: http://www.cnn.com/2013/05/10/justice/florida-gator-arrest/index.html