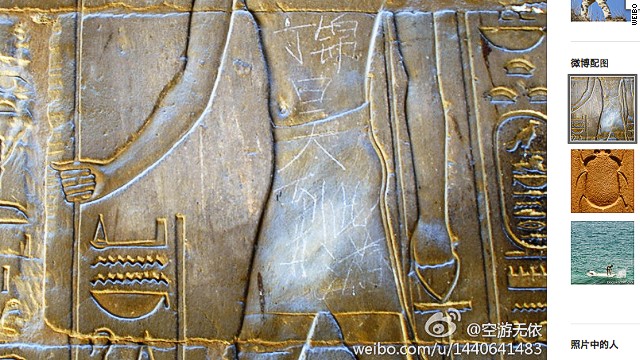 Hong Kong (CNN) -- Parents of a 15-year-old Chinese tourist have apologized after the teenager defaced a stone sculpture in an ancient Egyptian temple with graffiti.
The act drew ire in both Egypt and China -- generating a massive online backlash amongst China's unforgiving netizens.
The vandal carved 'Ding Jinhao was here' in Chinese in the 3,500 year old Luxor Temple.
"The saddest moment in Egypt. I'm so embarrassed that I want to hide myself. I said to the Egyptian tour guide,'I'm really sorry,'" that traveler wrote on the original weibo post.
For the rest of the story: http://www.cnn.com/2013/05/27/travel/china-egypt/index.html?hpt=hp_t1