Light from TVs, computers, tablets and smartphones may disrupt sleep and raise risk of obesity, heart disease and depression.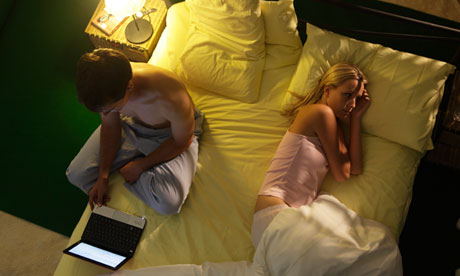 The blue light from laptops, TVs and tablets is particularly good at disrupting the body's natural sleep cycle. Photograph: Getty.
Watching TV or using computers, tablets or smartphones after dark may cause sleep loss and resultant health problems, a leading doctor has warned.
Peering at brightly lit screens at night disrupts the body's natural rhythms and raises the risk of medical conditions linked to poor sleep, including obesity, heart disease, strokes and depression, he said.
The warning, from Charles Czeisler, director of sleep medicine at Brigham and Women's Hospital in Boston in the US, comes as cheap electricity and more portable devices make it easier to surf the web, read books and check social media on glowing gadgets at any time of night.
Artificial light can prevent a good night's rest by dampening down the activity of neurons that bring on sleep, activating those for wakefulness, and suppressing the sleep hormone, melatonin. Together these push back the natural clock that controls the body's sleep-wake cycle.
"As a result, many people are still checking email, doing homework, or watching TV at midnight, with hardly a clue that it is the middle of the solar night," Czeisler writes in the journal, Nature. "Technology has effectively decoupled us from the natural 24-hour day to which our bodies evolved, driving us to bed later. And we use caffeine in the morning to rise as early as we ever did, putting the squeeze on sleep."