Sven Olaf Kamphuis is accused of global cybercrime, but Spanish police found him in a squalid flat with his name on the letterbox.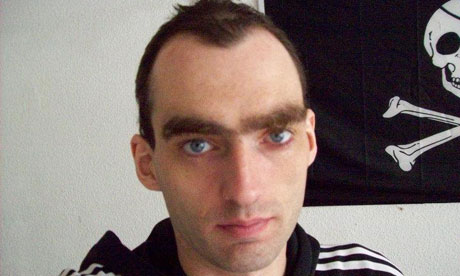 Sven Olaf Kamphuis, taken from his Facebook page. Photograph: Guardian.
The day Sven Olaf Kamphuis parked his huge orange Mercedes van with its German numberplates outside Bar Javis, in the Catalan town of Granollers, the owner's son snapped a picture with his mobile phone.
"Not a lot happens in this street," Maria Cruz, the bar's owner, explained. "And it was so huge, with all those funny antennas and solar panels poking out of the roof, that it blocked the light to the bar."
Even stranger was the 35-year-old Dutch man who parked it in this narrow street after renting a small attic flat with windows made of glass blocks in the poorer end of this nondescript town 15 miles from Barcelona.
Even on hot early summer days, Kamphuis wore a woollen hat. And he spoke no Spanish, answering "yes, yes" in English to everything people from this friendly neighbourhood said to him.
For the rest of the story: http://www.guardian.co.uk/technology/2013/may/20/man-accused-breaking-the-internet?CMP=twt_gu