The data in this year's UN report on children throws up as many surprises as predictable patterns. In which country are children most likely to die before they reach the age of 5? Where are teenage girls most likely to believe wife-beating is justified? And which countries have improved the most for children since 1990?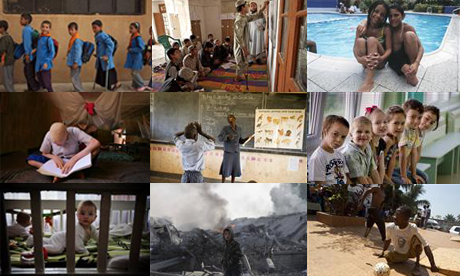 Unicef's latest report looks at the lives of children in almost 200 countries, giving special consideration to those living with a disability. Source: UNICEF/Guardian

Statistics aren't always child's play, as this new release from the United Nations demonstrates today. The UN Children's Fund (Unicef) have published their annual State of the World's Children report and it makes for some complicated reading. Not least because the references in the report run into the hundreds and have varying degrees of reliability.

That's partly because this Unicef report has made an admirable effort to look at national differences of a world-wide issue facing millions of children around the world: disability. We take a look at some of the disability concerns the report highlights, as well as other trends in everything from children's nutrition to education around the world.
For the rest of the story: http://www.guardian.co.uk/news/datablog/2013/may/30/best-country-to-be-a-child