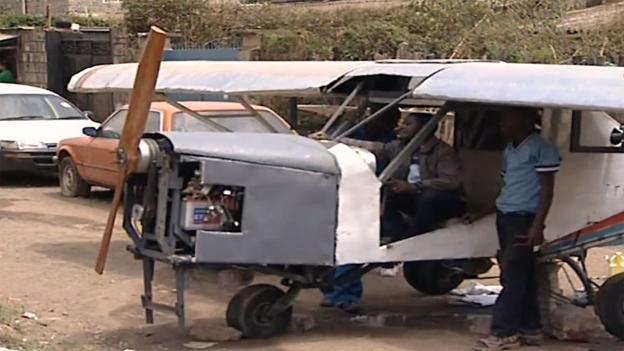 Amateur enthusiasts are creating planes and helicopters out of recycled parts and little training. So why aren't countries doing more to harness this talent?

Its propellers are powered by an engine that once milled animal feed. Aluminium bars, bolts and plastic sheeting bought from a local shop and held together with cheap gum make up the frame. A large crowd applauds enthusiastically as young farmhand Onesmus Mwangi publically unveils the 25-kilogramme (55-lb) helicopter he has built from salvaged scrap in his backyard in the village of Magomano, Kenya. And for good reason.
Mwangi, 20, dropped out of school at the age of 12 and has no formal technical training. His labour of love took up every spare waking moment outside his farm job for over seven months, not to mention his savings of 57,000 Kenyan Shillings ($650) – about a year-and-a-half's salary for him.
He is, of course, not the first person to build a helicopter. We can't even be sure his machine actually flies. The engine works and he claims it has flown a few feet, although this cannot be confirmed. Regardless, his raw talent and determination have attracted local, national and even international recognition.
For the rest of the story: http://www.bbc.com/future/story/20130625-africas-diy-aircraft-builders