• White House: Hong Kong had 'plenty of time' to stop Snowden
• US sees 'negative impact' on US-China relations
• White House believes Snowden 'remains in Russia'
• WikiLeaks' Julian Assange says he knows where Snowden is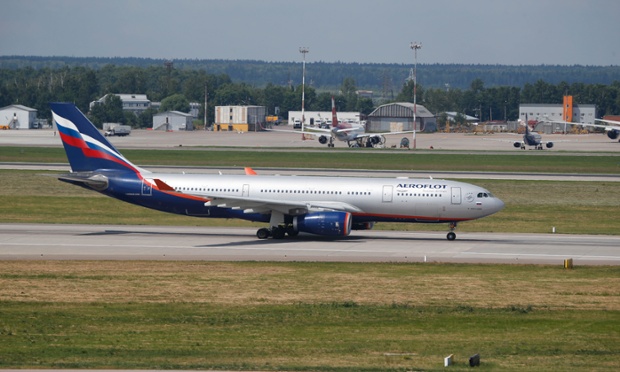 The Aeroflot Airbus A330 plane that was to carry Edward Snowden on a flight to Havana taxies out at Sheremetyevo airport, Moscow. He was not seen on the plane. (AP Photo/ Sergei Ivanov) Photograph: Sergei.
We're going to wrap up our live blog coverage for the day. Here's a summary of where things stand:
• The whereabouts of Edward Snowden were unknown, although White House spokesman Jay Carney said "it is our understanding that Mr. Snowden remains in Russia." Wikileaks founder Julian Assange in a conference call with reporters claimed to know where Snowden is and said he is "safe and healthy."
• Ecuador said it had received an asylum request from the former NSA contractor. Wikileaks also said it had applied to Iceland on Snowden's behalf. Ecuador's foreign minister, speaking on a trip to Vietnam, signaled support for Snowden.
• Carney said the White House "does not buy" Hong Kong's explanation for the decision to allow Snowden to depart. "That decision unquestionably has a negative impact on US-China relations," he said. Carney also said, without explanation, that it was "safe to assume" that any information Snowden had with him was "compromised."
For the rest of the story: http://www.guardian.co.uk/world/2013/jun/24/edward-snowden-booked-on-plane-from-moscow-to-havana-live-coverage