Senator asks 'have we gone mad?' after US planes jettison four unarmed bombs in training exercise gone wrong.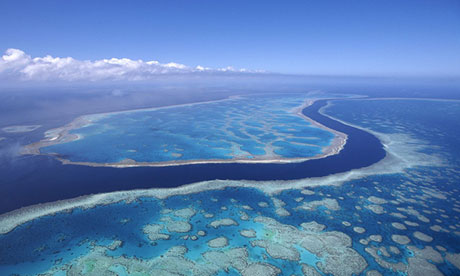 The US Navy says it may try to salvage four unarmed bombs dropped by fighter jets into Australia's Great Barrier Reef marine park last week when a training exercise went wrong.
The two AV-8B Harrier jets, launched from the aircraft carrier USS Bonhomme Richard, each jettisoned an inert practice bomb and an unarmed laser-guided explosive bomb into the World Heritage-listed marine park off the coast of Queensland on Tuesday, the US 7th Fleet said in a statement on Saturday.
The four bombs, weighing a total 1.8 metric tons (4,000 pounds), were dropped into more than 50 metres (164ft) of water, away from coral, to minimise possible damage to the reef, the statement said. None exploded.
For the rest of the story: http://www.guardian.co.uk/environment/2013/jul/21/bombs-dropped-great-barrier-reef