Ars hops in Boeing's "commercial space" spaceship, the CST-100

We got some cockpit time in the full-size demonstrator spacecraft in Houston.
Boeing took the curtain off its proposed commercial spacecraft this morning, allowing a limited number of press and media into one of its Houston facilities to crawl around inside a high-fidelity mockup. The spacecraft, designated the CST-100 (for "Crew Space Transportation"), is a large capsule, resembling a scaled-up version of the iconic Apollo command module.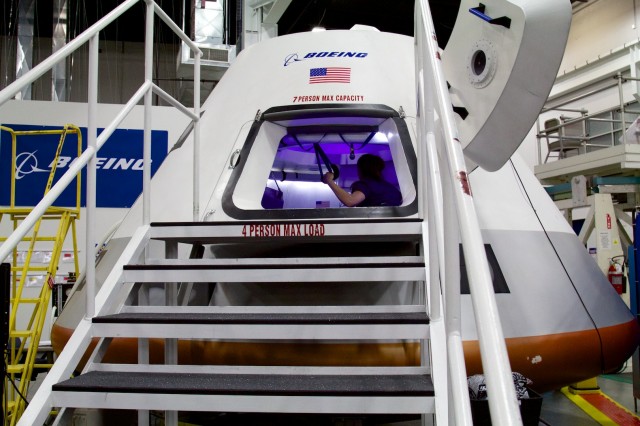 The CST-100 seats up to seven astronauts and will primarily be used to transport people to and from destinations in Low Earth Orbit ("LEO"), such as the International Space Station. CST-100 is designed specifically as a LEO transport, but Low Earth Orbit is only one of a much larger set of potential destinations that Boeing and other commercial space flight companies hope to target, extending all the way out to interplanetary space. According to Boeing Space Exploration Vice President and General Manager John Elbon, each destination has its own set of requirements and challenges. So CST-100 is Boeing's attempt at creating a spacecraft specifically designed to be a LEO workhorse.
For the rest of the story: http://arstechnica.com/science/2013/07/ars-hops-in-boeings-commercial-space-spaceship-the-cst-100/