I could not believe what I found inside a lionfish.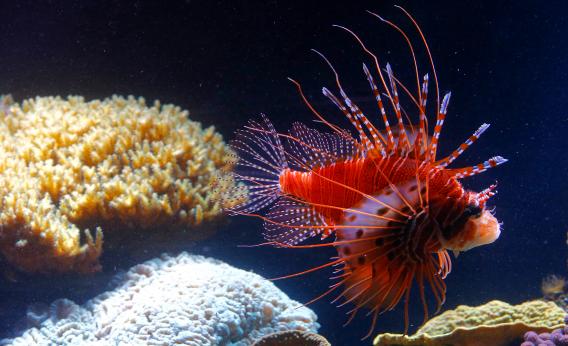 "Do you know what this is?" James Morris looks at me, eyes twinkling, as he points to the guts of a dissected lionfish in his lab at the National Ocean Service's Center for Coastal Fisheries and Habitat Research in Beaufort, N.C. I see some white chunky stuff. As a Ph.D. candidate at the Hawaii Institute of Marine Biology, I should know basic fish biology literally inside and out. When I cut open a fish, I can tell you which gross-smelling gooey thing is the liver, which is the stomach, etc.
He's testing me, I think to myself. Morris is National Oceanic and Atmospheric Administration's pre-eminent scientist studying the invasion of lionfish into U.S. coastal waters. He's the lionfish guy, and we met in person for the first time just a few days earlier. We're processing lionfish speared by local divers, taking basic measurements, and removing their stomachs for ongoing diet analyses. Not wanting to look bad, I rack my brain for an answer to his question. It's not gonads. Not spleen. I'm frustrated with myself, but I simply can't place the junk; I've never seen it before. Finally, I give up and admit that I'm completely clueless.
For the rest of the story: http://www.slate.com/articles/health_and_science/science/2013/07/lionfish_invasion_the_invasive_fish_are_eating_so_many_native_species_that.html