Why is it that Chernobyl is still toxic, but there are millions of people living in Hiroshima and Nagasaki without dying?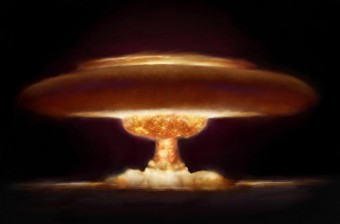 On August 6 and 9, 1945, U.S. airmen dropped the nuclear bombs Little Boy and Fat Man on the Japanese cities of Hiroshima and Nagasaki. On April 26, 1986, the number four reactor at the Chernobyl Nuclear Power Plant in the Ukraine exploded.
Today, over 1.6 million people live and seem to be thriving in Hiroshima and Nagasaki, yet the Chernobyl exclusion zone, a 30 square kilometer area surrounding the plant, remains relatively uninhabited. Here's why.
Fat Man and Little Boy
Dropped by the Enola Gay on Hiroshima on August 6, 1945, Little Boy was a uranium- fueled bomb about 10 feet long and just over two feet across, that held 140 pounds of uranium and weighed nearly 10,000 pounds.
When he exploded as planned nearly 2000 feet above Hiroshima, about two pounds of uranium underwent nuclear fission as it released nearly 16 kilotons of explosive force. Since Hiroshima was on a plain, Little Boy caused immense damage. Estimates vary but it is believed that approximately 70,000 people were killed and an equal number were injured on that day, and nearly 70% of the city's buildings were destroyed. Since then, approximately 1,900 people, or about 0.5% of the post-bombing population, are believed to have died from cancers attributable to Little Boy's radiation release.
Squat and round, Fat Man, so named for its resemblance to Kasper Gutman from The Maltese Falcon, was dropped three days later on the city of Nagasaki on August 9, 1945. About two pounds of Fat Man's 14 pounds of plutonium fissioned when it detonated about 1,650 feet above Nagasaki, releasing 21 kilotons of explosive force. Because the bomb exploded in a valley, much of the city was protected from the blast. Nonetheless, it is estimated that between 45,000 and 70,000 died immediately, and another 75,000 were injured. No data on subsequent cancer deaths attributable to radiation exposure from the bomb is readily available.
For the rest of the story: http://www.todayifoundout.com/index.php/2013/10/can-people-live-hiroshima-nagasaki-now-chernobyl/