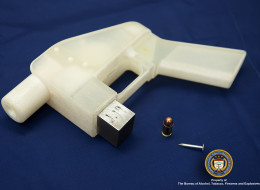 WASHINGTON -- Federal officials have determined that a 3D gun printed from blueprints available online qualifies as a deadly weapon and worry it could evade metal detectors at courthouses, schools and other public places.
"We downloaded files, we created firearms from those files, and we tested those firearms," Earl Griffith, chief of ATF's firearms technology branch, said in a briefing with reporters at ATF headquarters in Washington Wednesday.
The design of the Liberator includes a block of metal that technically makes it legal under the Undetectable Firearms Act, which requires that a certain amount of metal be included in a weapon so it is detectable. But the metal plays no role in the weapon's function and could be easily removed
.
For the rest of the story: http://www.huffingtonpost.com/2013/11/13/3d-guns-atf_n_4269303.html