Admission deals blow to government assurances that radiation near the Daiichi nuclear plant can be brought down to safe levels.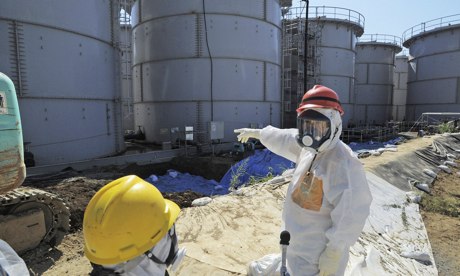 Japan's trade minister at the Fukushima Daiichi nuclear plant: the government has come under pressure to abandon its promises to residents.
Japanese officials have admitted for the first time that thousands of people evacuated from areas near the Fukushima Daiichi nuclear power plant may never be able to return home.
A report by members of the governing Liberal Democratic party [LDP] and its junior coalition partner urges the government to abandon its promise to all 160,000 evacuees that their irradiated homes will be fit to live in again.
The plan instead calls for financial support for displaced residents to move to new homes elsewhere, and for more state funding for the storage of huge quantities of radioactive waste being removed from the 12-mile evacuation zone around the plant.
The parties' admission that some areas closest to the wrecked facility will remain too contaminated for people to make a permanent return is a blow to official assurances that radiation can be brought down to safe levels.
The government has come under pressure to abandon those promises amid evidence that attempts to reduce radiation to its target of 1 millisievert a year are failing.
For the rest of the story: http://www.theguardian.com/environment/2013/nov/12/fukushima-daiichu-residents-radiation-japan-nuclear-power