Wall Street wants in on Bitcoin. Image via YouTube
A San Francisco-based hedge fund is hiring a Bitcoin execution trader, in yet another sign of how seriously Wall Street takes cryptocurrencies—or possibly that the world is ending. No word on whether or not you get paid in bitcoins.
Adam Besvinick spotted the job ad and shared it on Twitter.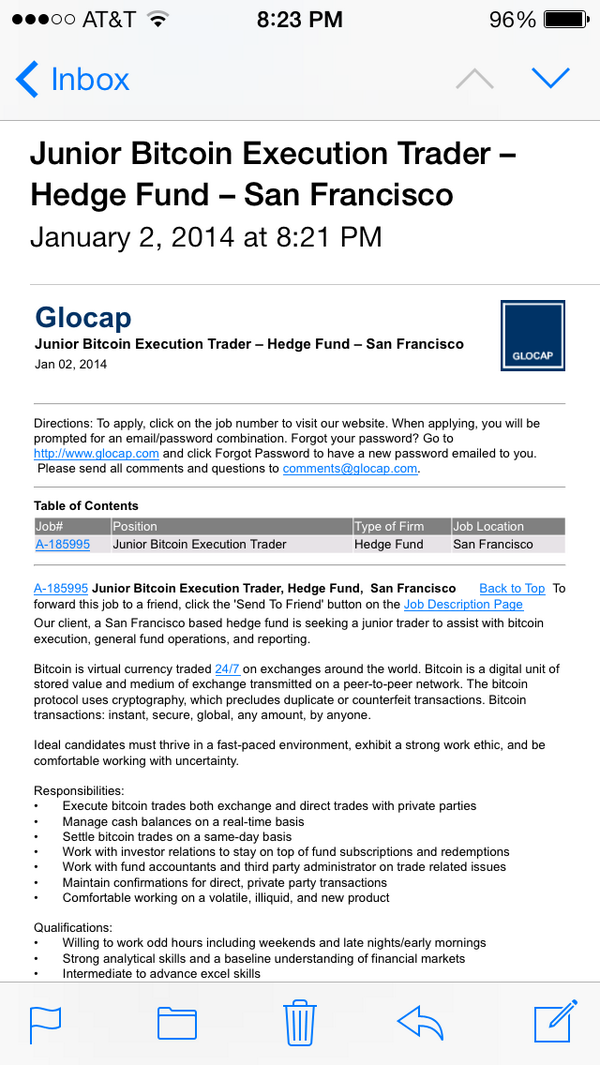 According to the job announcement, the firm is seeking a "junior trader to assist with bitcoin trading, general fund operations, and reporting." As Business Insider's Joe Weisenthal reports, "This is the first time we've seen this." Weisenthal infamously ranted earlier this year that Bitcoin Has No Intrinsic Value, And Will Never Be A Threat To Fiat Currency and added further fuel to the fire during the currency's most recent bubble, tauntingly proclaiming that Bitcoin Is a Joke. He's since changed his mind and this fresh development should only further solidify his aboutface. The longer Bitcoin survives, the more converts it will continue to win over, with Wall Street being the latest arrival to the party.
For the rest of the story: http://motherboard.vice.com/blog/bitcoin-becomes-a-real-job-and-wall-street-is-hiring