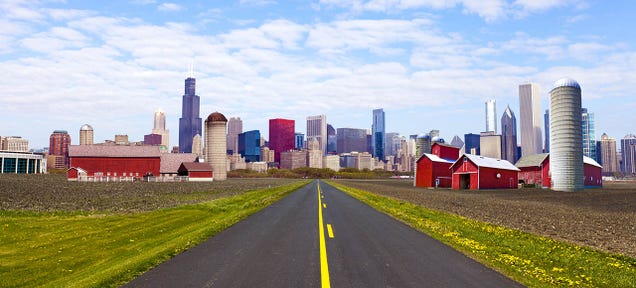 It's the year 2051. Welcome to a view of the American landscape. Urban areas have swollen with people. Range and pasturelands have shrunk. There's a bit more forest than there was back in 2014, a result of economic incentives driving more timber production. These are a few of the predictions of a new study on how people will use privately held U.S. lands in coming decades.
Economists and ecologists from several universities and the World Wildlife Fund put their expertise together to come up with an econometric model, which looked at how market forces surrounding the cost of agricultural goods are likely to shape land-use across the country.
The research, published May 5 in the Proceedings of the National Academy of Sciences, was designed to help scientists and policymakers better understand the drivers of land-use change and how policies can alter use.
"Providing food, timber, energy, housing, and other goods and services, while maintaining ecosystem functions and biodiversity that underpin their sustainable supply, is one of the great challenges of our time," the authors write.
The power of economics to alter the landscape
They ran the model from 2001 to 2051 assuming two baseline scenarios—the first mirroring low agricultural prices seen through the 1990s that drove land use away from crop production and into forested and urban lands that offered higher returns on investment. The second scenario assumes a 10 percent increase in crop prices every five years, a condition like that which dominated from 2007 to 2012 and drove expansion of agricultural land.
For the rest of the story: http://gizmodo.com/a-glimpse-of-how-we-ll-use-our-land-in-2051-1574489833?utm_source=feedburner&utm_medium=feed&utm_campaign=Feed%3A+gizmodo%2Ffull+%28Gizmodo%29