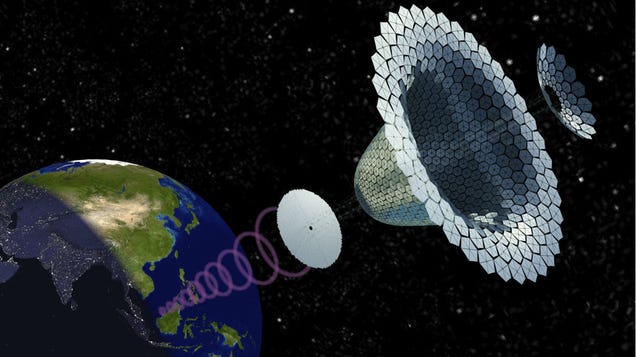 Whether they're producing voltage directly from solar rays or focusing them to melt salt like Ivanpah, even Earth's biggest and baddest solar power plants are hamstrung by all this damnable atmosphere getting in the way. But a new kind of off-world solar energy plant could soon provide the whole planet with plenty of power—we just have to finish figuring out how to build and operate it.
Energy Production in Spaaaaaaaace!
With the advent of silicon-based photovoltaic solar panels—the kind that directly convert solar energy to electrical current—some 60 years ago, researchers immediately looked to the skies as the ideal place to collect solar energy. Up there, you don't have miles and miles of atmosphere and clouds absorbing, scattering, or blocking out the sun's incoming rays. That means photovoltaic panels should, conceivably, be able to operate at (or very near) their theoretical efficiency limits. Plus, if you position a solar power satellite (SPS) properly over the equator, it will only reside in the Earth's shadow for a few hours every year and thereby provide nearly non-stop energy.
The idea of space-based solar power (SBSP) was formalized in the seminal 1968 report, Power from the Sun: Its Future, by American aerospace engineer Peter Glaser. The paper set forth a conceptual system for collecting unhampered solar energy from massive extra-atmospheric arrays of photovoltaic cells set in geosynchronous orbit above the equator, and transmitting it wirelessly back to Earth where it would be used by terrestrial power grids. In theory, with enough orbiting "solar farms," the energy needs of not just the U.S. but the entire world could be met.
For the rest of the story: http://gizmodo.com/what-it-will-take-to-farm-sunlight-from-space-1567164014