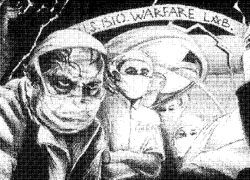 In 2006 the AIDS epidemic was a quarter-century old. Officially starting in June 1981 as a mysterious and fatal disease exclusively found in several dozen young white gay men from New York City and Los Angeles, the disease has already killed 20 million people with 40 million more currently infected with the human immunodeficiency virus (HIV), widely accepted as the sole cause of AIDS.

One million Americans are now infected with HIV; and almost half of the new cases are African-American.

The disease was first uncovered in homosexual men from Manhattan. "Gay cancer," in the form of Kaposi's sarcoma skin tumours, was the most striking telltale sign; and drugs, promiscuity, and anal sex were all thought to play a role in the unprecedented suppression of the immune system.

It was soon obvious that the disease was not limited to gays: the mysterious agent was in the national blood supply, and an epidemic of AIDS was also uncovered in Central Africa.


In April 1984 Robert Gallo of the US National Cancer Institute (NCI) announced his discovery of HIV as the cause of AIDS. Subsequently, Luc Montagnier of the Pasteur Institute in Paris filed a lawsuit claiming he had first discovered the AIDS virus at Pasteur, and that Gallo had stolen the French virus after it was sent to his lab for study.

Twenty-five years later, the origin of AIDS still remains a mystery. The disease is widely believed to have originated in Africa when a primate (monkey) virus "jumped species" to first infect Black Africans. However, it is important to note that this belief is theory, not proven fact.

Montagnier has wisely cautioned that it is extremely important to distinguish between the ancestral origin of HIV and the actual beginning of the AIDS epidemic. The animal virus ancestor of HIV may indeed be centuries old, but it is obvious that the epidemic itself is new.

The epidemic did not begin in Africa. The first AIDS cases were uncovered in Manhattan in 1979. At that time there were no reported African cases. In fact, the AIDS epidemic in Africa did not begin until the autumn of 1982 at the earliest.

How was HIV introduced exclusively into the gay community in the late 1970s? The exclusive introduction of HIV into the homosexual population of New York City is an unprecedented event in the history of medicine.

This biologic phenomenon has never been fully explained scientifically. There is certainly no evidence to indicate white gay men were the only people exposed to sexual contact with Africans, particularly at a time when the epidemic did not exist in Africa.

For the rest of the story: http://humansarefree.com/2014/12/the-secret-origins-of-aids-facts.html